*** WE ARE BACK ***


*** MONDAY 6TH JULY ***
Coronavirus (COVID-19) In line with Government Guidelines
Our priority is to keep you and us as safe as possible, we have all completed certified Coronavirus (COVID-19) Infection Prevention & Control courses.
We have implemented a number of changes which we would like to make you aware of.
Please take a moment to read:
** Appointments can only be made by phoning the salon on 0151 336 1766
It is unlikely we will be able to pick up your call so please leave your name & contact number on our voicemail and we will call you back at the end of the day or as soon as we are able to.
** On the day of your appointment we will phone you to ask you some health questions that will require a signature on your arrival.
** Please arrive on time and come alone.
** Please wait outside until we ask you to enter.
** If you are early, please wait in your car or a safe place until the time of your appointment.
** Hand sanitiser will be by the door and must be used when you enter.
** Hand washing facilities are available at all times.
** Masks are available and MUST be worn for your entire appointment and should not be removed until you have left the salon. *Please remember to dispose of it correctly.
** You will be temperature checked by a touchless device. A reading of 38C will mean your appointment will be cancelled, you will be advised to self-isolate for 14 days and call 111 for advice.
** Clean sanitised gowns & towels are used for every client.
** Please bring a bag to store your coat, umbrellas and personal belongings. Only 1 bag per client will be permitted.
** A full clean & disinfect of all tools, equipment and high touch areas will be carried out after every client.
** Refreshments & magazines are no longer available.
** You may bring your own bottle of water/cordial but a straw must be used to avoid touching or removing your mask.
You will be asked to take it home with you to dispose of in a safe way.
** We will no longer be doing dry cuts only wash & cuts.
** Where possible please use a card payment but cash will still be accepted if necessary.
All changes have been implemented for yours and our safety. We will continue to take advice from the Government and the NHS regarding safe practice and will amend them as necessary.
We want your visit to be as comfortable as possible but please be patient with us while we adjust to the new normal !
And finally we are delighted to be back!!!
TO BOOK AN APPOINTMENT RING THE SALON ON 0151 336 1766 AND LEAVE YOUR NAME & PHONE NUMBER ON OUR VOICEMAIL AND WE WILL RING YOU OVER THE NEXT WEEK TO BOOK YOU IN.
Appointments will be made by:
Length of treatment to the amount of clients & staff in the salon at the same time, to ensure distance can still be maintained at all times.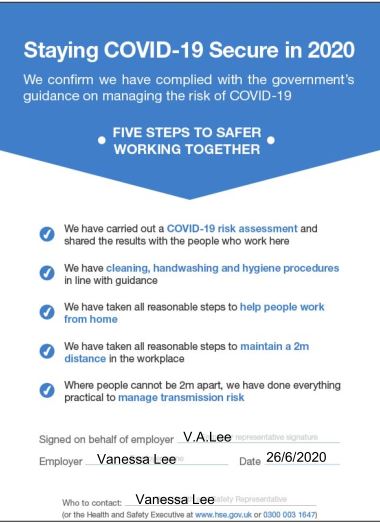 ----------------------------------------------------------------------------
We are an appointed salon for Dermalogica skin care,
Matrix haircare, Olaplex, Mii makeup, Mii brows, Sienna X tanning & Eleebanna lashes.
Mii makeup & Dermaologica skincare retail products
Vanessa Hair Designs & Beauty has been established
in Neston village for over 25 years.
We are a unisex salon and children are welcome.
Enjoy our relaxed, friendly atmosphere and allow our team of highly qualified and experienced stylists and therapists to
We have a wide range of treatments and use only the highe

st quality products to ensure your experience and
results are to the highest standard.
All our team attend

regular refresher courses.